Get your fashion fix with all the latest news, trending looks, exclusive updates, lifestyle guides and more from Goddiva. Create the perfect copycat look with celebrity style inspo and get ready for the biggest events of the year with our holiday hot takes!
Make sure your big day is the event of the century and say YES to the dress with professional tips, unique ideas and wedding inspiration. Plus all the new drops, sneak peaks and insider info you love.
The Best Sites For Affordable, Stylish Bridesmaid Dresses
  If you're a bride-to-be struggling to find your dream bridesmaids dresses for your #BrideTribe, then you've come to the right place. Ticking off your wedding-to-do list is no breeze, and while it's so easy to suddenly fall into chaotic stress, it's important to stay calm, level-headed and remember - this is meant to be fun! While it might feel daunting splurging on a number of bridesmaid dresses for the big day, especially if you might be financially a bit tight - there's no need to be alarmed and tickle those pre-wedding nerves! There are a number of beautiful, incredibly affordable bridesmaid dresses out there, all as bedazzling, as sparkly and as breathtaking as their designer counterparts. With a number of high-quality fabrics, striking colours and unique designs to choose from, you'll find yourself spoilt for choice for your girls! So grab a cocktail (or two), cosy up in a duvet and scroll through the best sites to pick your bridesmaid dresses.
Rewritten
Your one-stop Bridesmaid shop for the most diverse range of dresses you'll find.
Designed and made in London, 'Rewritten' collections feature 10 unique designs in 11 colours - meaning you have plenty of styles to choose from! From modern, chic gowns in blues and greens to greys and neutrals, all at very affordable prices. Prices range between £100 to £300.
ASOS
ASOS has left no stone unturned in the world of fashion. Their beautiful, chic bridesmaid edit boasts affordable prices and exquisite, flirty designs in a variety of styles.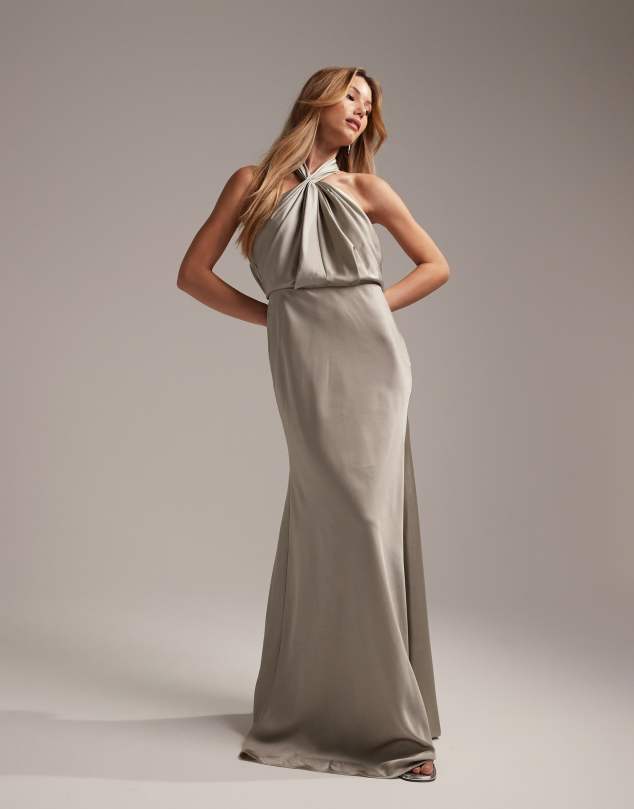 With midi bridesmaid dresses to floor-length gowns (and even maternity bridesmaid dresses), ASOS are once again winning hearts with their incredible efforts of inclusivity.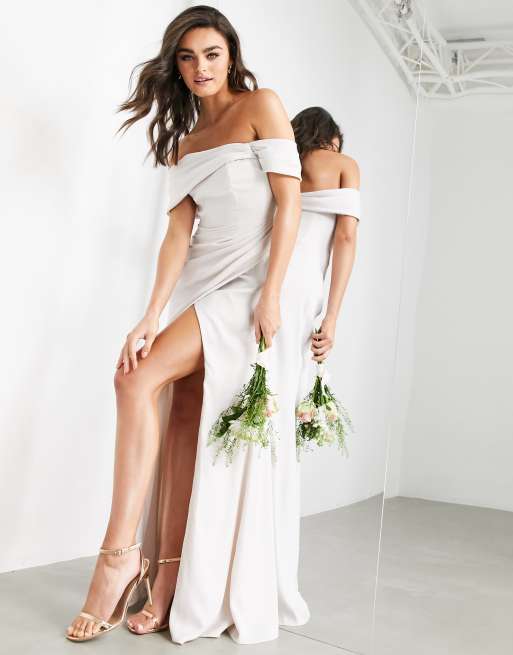 Maids To Measure
'Maids To Measure' has been featured on HELLO! Marie Claire, TATLER, among others, and impresses with timeless gowns in classic tones like powder-blue, cream, sage green and pink.
They also have a number of romantic prints, and if you're planning a floral-themed Summer wedding, look no further! Prices range from £125 to £200.
Needle & Thread
'Needle & Thread' stands out from the crowd for it's fantastic, ethereal blend of 1920's designs with an effeminate touch.
It's uniquely British in practically every manner, with each bridesmaid dress being incredibly delectable. Prices range from £195 to £450.
Goddiva
Goddiva bridesmaid dresses are renowned for their attention to fine detail, delicate embroidery and careful sequins -  all at incredibly affordable prices.
With classic, opulent floor-length gowns to more modern, asymmetrical alternatives, go wild with bright mint green, black gold or red - or stick to simple with classic navy, blush and emerald.
Revolve
'Revolve' have done incredibly well with their best-selling Wedding Shop. Their sultry collection of modern bridesmaid dresses tease in a variety of designs, from daring thigh-split gowns to one-shoulder dresses.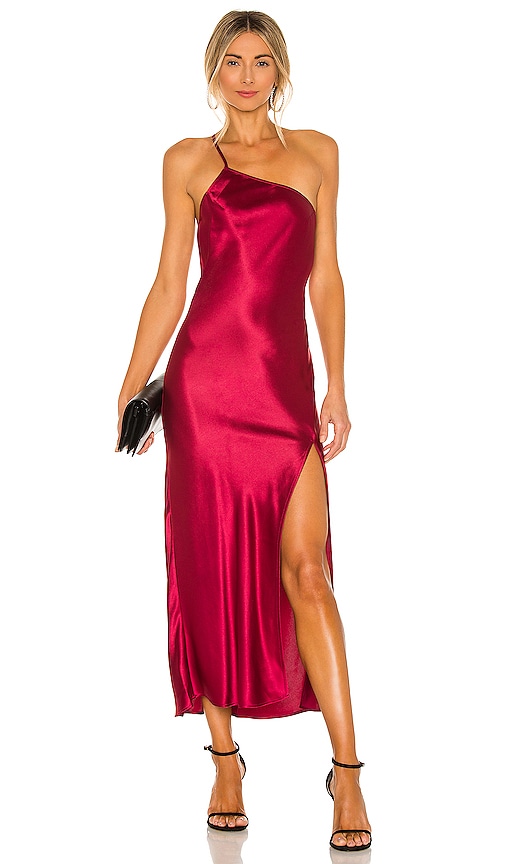 If you're looking to unlock levels of sexy at your wedding, then Revolve most definitely will not disappoint.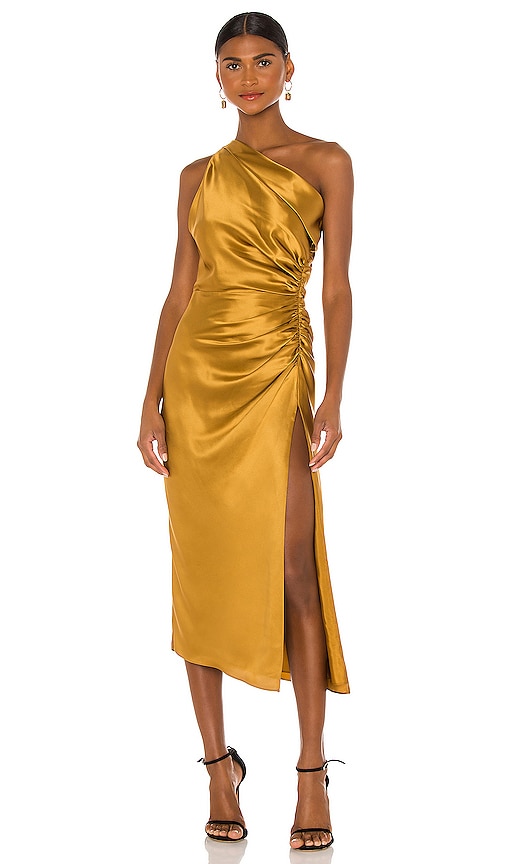 Boohoo
'Boohoo's' sultry, overtly affordable bridesmaid dresses are the ones for you if you're looking for flowy, midi skater dresses or Grecian-inspired sequin gowns.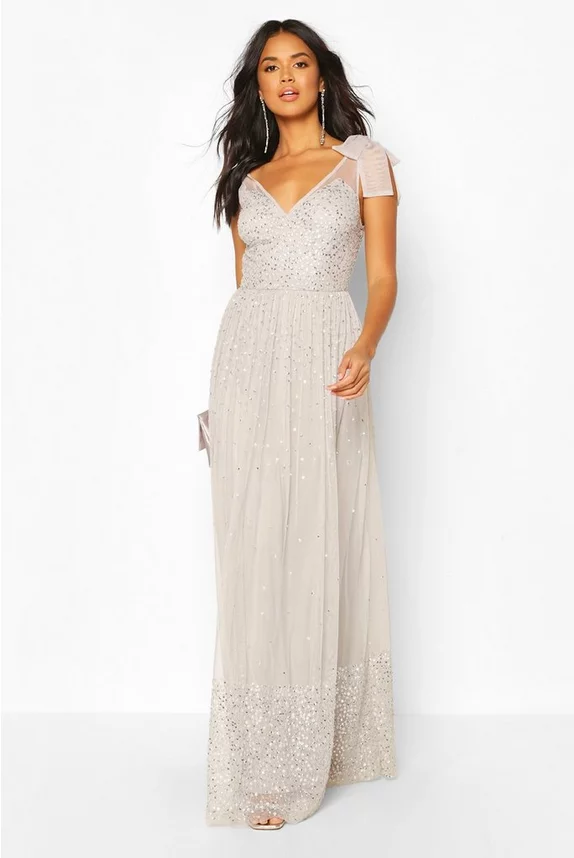 It's the perfect blend of styles and fabric, with experimental and bold designs for the ultimate, modern wedding.