Get your fashion fix with all the latest news, trending looks, exclusive updates, lifestyle guides and more from Goddiva. Create the perfect copycat look with celebrity style inspo and get ready for the biggest events of the year with our holiday hot takes!
Make sure your big day is the event of the century and say YES to the dress with professional tips, unique ideas and wedding inspiration. Plus all the new drops, sneak peaks and insider info you love.
10 Colourful Wedding Dress Colours You Need To Know About
Long gone are the days where the classic white wedding dress glistened on a bride's big day. The saintly whites, angelic ivories and refreshing creams will always be the most treasured colours, it's time for deliciously lush shades like gold, pink and red to come through and shine. 
How To Pick Your Dream Colour
 A bride-to-be must be careful when picking the perfect wedding shade for the big day. Pick the colour that best exudes your personality, and make sure it speaks to you, and only you; don't let anyone tell you differently or criticise your choice - it's your wedding, not theirs! Once you've said 'I do' to your dream wedding colour, you can start thinking about what tone to splash out for your bridesmaid dresses. 
Subtle Statements
If you don't feel comfortable drifting too far off from the classic white, opt for a soft blush, grey, lilac or powder blue. With 2021 almost half way through, theses are the most sought-after tones for Spring and Summer that take the throne.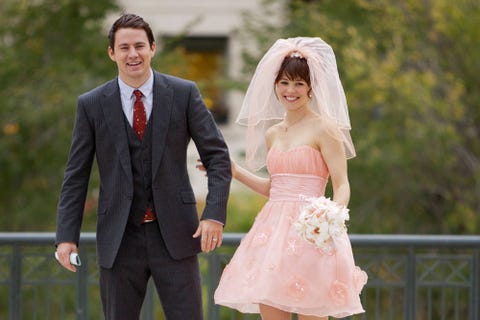 Dramatic Runways 
The world is your runway, and so is your jaw-dropping walk down the aisle. If you're looking for a dramatic entry true to your bright 'n bold personality, opt for jewel tones like emerald green, magenta and wine red. 
Whatever your theme may be, be it a quintessential Church or a lulling beach wedding, we've chosen the best, colourful wedding dresses that are tailored to every budget, personality and style. 
01/10
Live out your fairy-tale with this effortless blush sequin dress with a hint of mesh. It's undeniably romantic, and is the perfect option for anyone looking to stay close to a classic white - but with a softer, modern touch of blush.
02/10
A summer wedding calls for your something blue, and a floaty, lace dress that's as simple as it is quaint. This is the ideal blue wedding dress for a beach wedding.
03/10
Going for bold? Then go BOLD darlings! This red one shoulder maxi dress is the jaw-dropping choice for your dramatic walk down your runway-aisle.
04/10
A mint dress is the sublime choice for an outdoor, countryside wedding. Lush green terrains call for the chic bride-to-be looking to be inspired by Mother Nature, and this gorgeously earthy tone is both flattering and incredibly versatile for a spring or summer wedding.


05/10
An emerald dress is both elegant and an incredibly refined choice of colour for your big day. It unfurls opulence and is considered the finest of the jewel tone family. Pair with a few gold accessories and gold shoes - and strut down in regality!
06/10
Short and flirty with a romantic mesh flow, this gold sequin evening maxi dress is just what you've been looking for to show off your legs in a subtle, teasing way. You've got the classic touch of a maxi wedding dress with a touch of playful modernity.
07/10 
Sequins and champagne? You can't go wrong with allover glitter and sparkle, and if you're planning a December or New Year's Eve wedding, then head-to-toe sequins is the way to go out.
08/10
 This beaming bright lime dress by Vicky Pattison is the perfect wedding dress for a location summer wedding. Dazzle in sunshine with this contemporary twist on a modern-day romance.
09/10
Make waves with a royal blue wedding dress, in starry-eyed chiffon. With a crisp off-the-shoulder neckline, and subtle high-low split, this dress exudes the perfect amount of movement as you make your way down the aisle.
10/10
If you're still a wee bit hesitant about splashing on colour for the big day, then opt for this beautifully soft blush hue, adorned with beautiful flowers for the boho-girl in you.