Get your fashion fix with all the latest news, trending looks, exclusive updates, lifestyle guides and more from Goddiva. Create the perfect copycat look with celebrity style inspo and get ready for the biggest events of the year with our holiday hot takes!
Make sure your big day is the event of the century and say YES to the dress with professional tips, unique ideas and wedding inspiration. Plus all the new drops, sneak peaks and insider info you love.
The Hottest 2021 Party Shoes You Need To Step Out In
Life is short. Heels shouldn't be.
With the vaccine in full rollout, endless government pinkie promises that we'll be out of lockdown by April, and a new, close-to-normal future on the horizon - it's time we sort out our party wardrobe because hunnies, we are going FULLL THROTTLE this summer. We deserve it. We need it. We crave it. 
It's been loungewear and PJs season for what feels like a century, and come to think of it, I honestly can't remember the last time I got dolled up, slipped into a sultry sequin dress and stepped out in a pair of envious party heels...
Let's ignore the next few months of lockdown 3.0 and skip to party season, which, according to my calculations and newly-conceived calendar, should be a month or 2 post-quarantine. And since we've got no plans, we might as well get ahead of the game darlings and plan our comeback wardrobes to the T. I'm talking exuberant, floor-length gowns, Hollywood-esque capsules (Vicky Pattison is my current obsession, she's made me fall in love with bold colours all over again), the sexiest party dresses that DREAMS ARE MADE OF, and of course, last but not least the frosting on the cupcake...PARTY SHOES!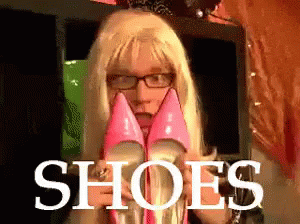 Cinderella is living proof that a pair of shoes, (preferably magical, high-heeled variants) can change your life - and if you're looking to revamp last year's footwear game for all those endless nights out and special occasions - be it a brand new outfit for Valentine's Day, a redo of last year's LBD, a wild night to ease the edge, or an upcoming wedding - you need a brand new pair of statement shoes to set the dance-floor on FIRE! 
2021 might be on a momentary pause, but this summer's going to be the post-lockdown party season generations will be talking about for years - nay - decades to come. It's also the perfect time to start planning your revenge workwear (or that first interview), with glitter boots, for example to take the party literally wherever you go, or some classy court shoes with tassel - remember, behind every successful woman is a fabulous pair of shoes! The beauty of a pair of shoes is precisely the fact that you can pair them with the most basic, casual outfit and it'll magically pump the whole do into a sexy, fierce ensemble! So, it's time you indulge in a number of fresh, dreamy pair for the years ahead with our ultimate guide of affordable party shoes to swoon over.   
1/10
Paradox London Glitter 'Haldana' Crysta Mid Heel Sandals, Silver / Cream, £19.99
2/10
Glitz Shoes Sabatiné Ankle Strap Court Shoes, Red/Multicolour/Black, £40
3/10
Paradox London Satin 'Macpherson' High Heel Stiletto Heel Ankle Strap Sandals, Navy, £41.30
4/10
Paradox London Satin 'Frida' High Heel Court Shoes, Blush/Cream, £79
5/10
Glitz Shoes Tassel Court Shoes, Purple/Grey/Blue/Beige, £25
6/10
Glitz Shoes Sabatiné Glitter Heel Suede Ankle Boots, Grey/Blue/Black, £50
7/10
Paradox London 'Indulgence' High Heel Platform Peep Toe Shoes, Ivory, £109.95
8/10
Paradox London Hinoa Mid Heel Ankle Stap Sandals, Gold, £55
9/10
Paradox London Glitter 'Hibiscus' Wide Fit Block Heel Ankle Strap Sandals, Silver, £49
10/10
Paradox London Satin 'Hira' Embroidered High Heel Block Sandals, Blush, £75
We all know good shoes take you good places, so keep your heels, head and standards high. Let's get this bread darlings.