Get your fashion fix with all the latest news, trending looks, exclusive updates, lifestyle guides and more from Goddiva. Create the perfect copycat look with celebrity style inspo and get ready for the biggest events of the year with our holiday hot takes!
Make sure your big day is the event of the century and say YES to the dress with professional tips, unique ideas and wedding inspiration. Plus all the new drops, sneak peaks and insider info you love.
Trending Bridesmaid Hairstyles For The Big Day
If you're a bride-to-be, then we already know you're Pinterest is overflowing with bridesmaid hairstyles, from curls to straight hair and top knots, to everything in-between - you've got an entire archive of gorgeous hairstyles for the most important day of your life so far, but...what about your bridesmaids? Your #BrideTribe's hairstyles are just as integral and important as your own! They need to compliment not just your own hair-do, but their bridesmaids dresses as well as your own wedding dress! You've undoubtedly chosen the perfect shade of dresses for your girls, and you're at the fun makeup box to tick off of your wedding checklist. It's an important, intimate time - getting ready for your big day with your most precious girlies around you! So to avoid stress and last minute hiccups, it's vital you pre-plan the hairstyles you'll want your bridesmaids to wear. If they're wearing darker, jewel tones then perhaps sleek ponytails or ballerina buns would suffice. For lighter, summery shades like powder-blue, lavender and mint green, beach waves, mermaid braids or half-up-half-downs would do. You could also look at the specific style of the bridesmaids dresses, for example if it's a strapless dress, hair down works best. If it's got a lot of sequins and is also long-sleeved, then having a top bun would be optimal. Either or, it's key you stay true to yourself and your girls' personalities - and make sure everyone's happy! Shouldn't be too hard, right? If you've got your inspo photos at hand for your makeup artist, then it'll make a world's difference! Below are the most frequently asked questions we've answered regarding bridesmaids hairstyles, and a number of hairstyles to choose from. Once you've read through them all, you'll feel more at ease and far more confident to pick the perfect hairstyles for your bridesmaids!
Should Bridesmaids Hair Match Or Can They Vary?
They don't always have to, but usually it does help to have them match. It'll mean more symmetry in photo-ops and Insta reels, but remember, you can have variants of the same kind of hairstyle like loose curls or side braids.
Do I Pay For My Bridesmaids Hair?
It's either-or really, at times brides-to-be will choose to pay for their bridesmaids' hairstyles, and usually have their makeup and hair done at the same time together. It's common, but if you can't afford it, then it shouldn't be a problem.
Here are the most popular bridesmaids hairstyles for your big day:
Power Pony
It's not just a pony. It's a power pony that demands the room! This will look great with an open back dress.
Low Chignon
It's the classic low bun that drips in elegance and chicness! Couple this hairstyle off the shoulder dresses, for example.
Fishtail Braids
These mesmerising braids work with long hair or hair extensions, and with the wisps and loose curls, it's even more magical and effortless! 
Messy Flower Bun
It's whimsical, it's romantic and it's the perfect do for summer weddings! If you're wearing a blush bridesmaids dress, then this is the hairstyle to go with.
Braided Up-do
Braids are so lush and varied, the number of styles to pull off are endless!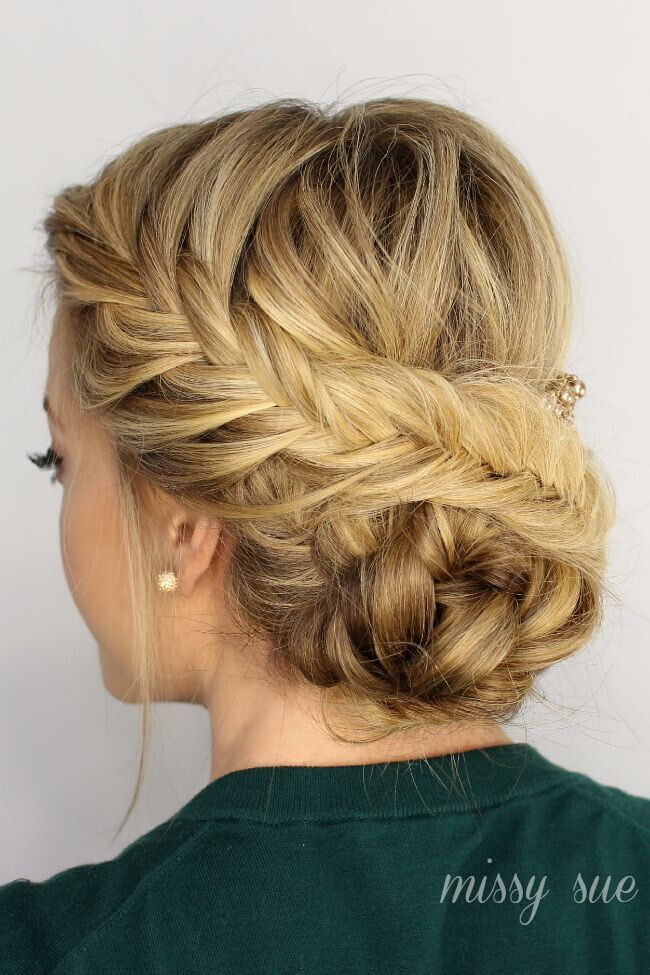 Foliage Crown

It's the magical look for an outdoor, summer wedding, and works well with white bridesmaids dresses.
Cute Hairband
Keep it quirky and cute with a statement hairband. Hair accessories are great when your bridesmaid dresses are all minimal!
Volume and Slides
Keep the drama contained in your bridesmaids dresses' hair! The more volume, the more drama and sass!
Beach Curls
Beach curls are ideal if you're on the fence about what do to go with! Add a bit of depth with a half-up, half-down style.