Loungewear, Assemble! The Snuggiest Loungwear Sets For 2021
It's been lockdown for 84 years now darlings, so if you haven't already spent your life's savings on an endless supply of plush loungewear, then it's time you hop on the cosy bandwagon today. Our wardrobe's got a new love interest, and it's loungewear, so we can't really disappoint, given all the woes of the world's current situation (we've already seen enough heartache to last us all a lifetime and it's only just January).
Snug loungewear is now everyone's middle name, and it literally feels like we're back in the 00's with the famous Juicy Couture era of celebrities (namely queens Paris Hilton, who revolutionised the brand and made it a household name) running errands snug in top-tier velour. 
More recently, you've probably noticed Kim Kardashian swiftly dismissing everything we thought we knew about velour, with her new collection of SKIMS loungewear (WARNING: SIGNIFICANT DROOLING AND BLOWING SAVINGS WILL OCCUR). While velour will always be the OG of loungewear, in-between-work-and-play clothing has evolved and over the years, and has birthed several different fabrics in trendsetting styles, confident-boosting silhouettes and most importantly - obscene levels of snug. Lately, present-day loungewear dips in old-school classic elements, but with modern twists that honestly make weekends and evenings the most relaxing (and stylish) they've ever been. So, let's round up 10 essential sets to splurge on, for the love of loungewear!
1/10
Exclusive to Goddiva, Aimelia Apparel just dropped the loungewear set of the season. The classic tracksuits we all know and love come with a doubled, pink and white panel and block print hoodie. 
2/10
ASOS loungewear is everything you need, especially if it's in quilt (and dusty blush).
3/10
New kids on the block SHEIN UK have evolved loungewear and casual clothing to fit sexy and cosy. There's love, then there's SHEIN Loungewear love (because look at that price?)
4/10
 We all know a Boohoo 'drobe is essential, so let's start with the basics.
5/10
Another snug exclusive to Goddiva, Saint A know how to make yourself at home, no matter where you are.
6/10
The Playboy x Missguided drop was possibly the most exciting sequel the world of loungewear got in a while - which is why they keep restocking! Get with the trend sis:
7/10
Boux Avenue know a thing or two about intimacy, so naturally their loungewear will be the ode to Juicy Couture, splashed in with their own sexy touch. Note, you can never have too much velour.
8/10
 We've grown up with M&S, it'll always live in our hearts rent free. They're the fun aunt of retail - they're hip, chic, and you can trust them to be the best thing for you.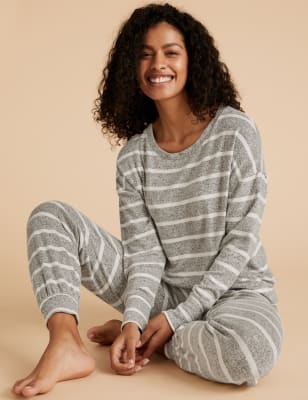 9/10
Be Netflix-ready, duvet-ready, junk-food-ready, off-to-the-shops ready - really anything with Pretty Little Thing's stylish Jumper and Leggings set.
10/10 
We couldn't resist throwing in another Aimelia Apparel Loungewear set into the mix. It's the sheer panels in the sweatshirt for us.